Sites About Dogs
Some people say dogs are man's best friend.
We say dogs are kids' best friend! Here are some interesting dog sites we found.
Raise a Seeing Eye/4-H Puppy!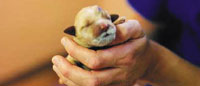 The Seeing Eye/4-H Puppy Raising Program needs willing 4H families to help train seeing eye dogs. Each year, German shepherds, Labrador retrievers and Golden retriever puppies are placed with children from nine to 19 years of age and adults as the first part of their training.
Dog-Gone Good Jokes

http://yahooligans.yahoo.com/content/jokes/category?c=9
How do dogs turn off the VCR? By hitting the PAWS button! Did you hear the one about the pizza-loving pooch? He loves PUPPERONI!
Is a Berner Laufhund Right for You?

http://animal.discovery.com/guides/dogs/dogs.html
Which kind of dog is right for you and your family? Animal Planet's Dog Breed Selector asks you a few questions, and then tells you what kinds of dogs fit your needs. Try it out&emdash;it's fun!
Roll Over!


http://www.loveyourdog.com
This site shows you how to teach your dog to roll over, speak, shake, and even yawn on command! Plus there's lots of tips on how to take care of a new puppy.
The Most Popular Kinds of Dogs Are…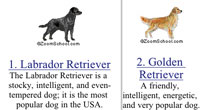 http://www.enchantedlearning.com/subjects/mammals/dog/popular.shtml
This web site tells you about the 50 top dog breeds in the US. You can print fact pages and coloring activities.
Six Amazing Dogs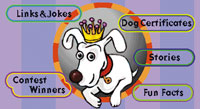 http://www.thirteen.org/extraordinarydogs
Some dogs are more than mere pets&emdash;they work for a living! This site tells the stories of six extraordinary dogs that make a difference. One pup even saves lives!