Let's Write & Read!!
Here are some fun sites that can help you read and write better.
Let's Start at the Very Beginning www.literacycenter.net

If your little brother or sister is just learning the alphabet, help them go to the LiteracyCenter. There are a lot of nice letter games and activities, plus you can practice making upper and lower case letters, or play games that teach you where letters are on the computer keyboard.
Your First eBook! www.starfall.com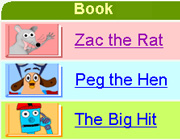 Did you know that there are lots of beginning reader books online? In the Learn to Read section of this website, you can find 15 short stories designed around letter sounds. Words are sounded out for you, and there are fun and silly activities to play, like tongue-twisters and riddles.
Hear a Story Read Aloud www.kennedy-center.org/multimedia/storytimeonline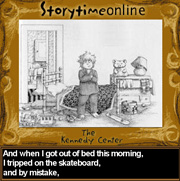 Do you love to hear stories read out loud? At the Kennedy Center web site, you can see and hear three classic children's books read aloud. Our favorite is Alexander and the Terrible, Horrible, No Good, Very Bad Day. You can also listen to Harlem: A Poem, and Brothers of the Knight. You'll need RealPlayer, which you can download for free.
Who Won the Newbery and Caldecott Medals?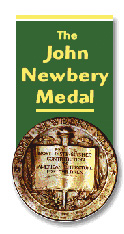 To see the Caldecott winners www.ala.org/alsc/caldecott.html
To see the Newbery winners www.ala.org/alsc/newbery.html
Want to see which books that librarians think are the best? The best storybooks get the Newbery Medal, named for an eighteenth-century British bookseller. The 2004 Newbery Medal winner is The Tale of Despereaux: Being the Story of a Mouse, a Princess, Some Soup, and a Spool of Thread, the story of a mouse who loves music The Caldecott Medal is given to the best picture book, and was named after nineteenth-century English illustrator Randolph Caldecott. Both awards are given by the Association for Library Service to Children.
The 2004 Caldecott Medal winner is The Man Who Walked Between the Towers, illustrated and written by Mordicai Gerstein (Roaring Brook Press/Millbrook Press). "This true story recounts the daring feat of a spirited young Frenchman who walked a tightrope between the World Trade Center twin towers in 1974. His joy in dancing on a thin wire high above Manhattan and the awe of the spectators in the streets far below is captured in exquisite ink and oil paintings that perfectly complement the spare, lyrical text." (source: www.ala.org/alsc)
More Books, Please www.kidsreads.com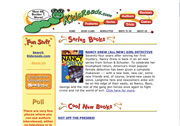 This site is chock-full of kid-friendly book reviews, interviews with authors, trivia games, word scrambles and contests. We liked how you can read excerpts and see the covers of the books.