Five sites, ten videos about Leaves 

1. How long is the longest leaf in the world?  At http://www.raffiaonline.com/about_raffia.html you can visit a store that sells leaves that grow in Madagascar, Africa, on the Raffia Palm. The palms grow a thin leaf up to 60 feet in length. It has many uses including making doll hair, ribbons, and hula skirts.
2. Can a leaf kill you? At Popular Mechanics http://bit.ly/160fqbf you learn about ten of the most deadly leaves, some even contain poison. Admire them, from a distance.
3. I'm stuck in the woods. Which leaves can I eat for food? At the Art of Manliness http://bitly.com/14mxgXo you can find 19 plants that could save your life, by serving as food. These include the dandelion., and clover
4. Why do leaves change color? At http://www.foliagenetwork.com you can explore the reasons why a simple green leaf turns to red, yellow, or even purple each fall season. Or you can watch this video for a quick explanation http://www.youtube.com/watch?v=ljPU1nDVq-0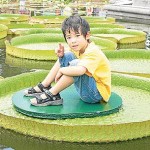 5. How much weight can a leaf hold?  At the Kew gardens http://bitly.com/17BvXmf  you can read all about the giant amazon water lily, with a leaf  that can grow more than 8 feet  across, and support the weight of a child.
Applications
Make some wax dipped leaves
At http://spoonful.com/crafts/waxed-leaves you can learn how to make decorative wax leaves. Take about 1/4 pound of parafin wax, some empty cans, wax paper, and newspaper.  Place a piece of paraffin wax in the smaller can, and place the smaller can inside the larger one. Add warm water to both cans, filling them to about a half-inch below the rim of the small can. (When melted, the wax will float on top of the water.) Simmer the water over medium heat until the wax has melted (a parent's job). To avoid spatters, don't let the water and wax come to a full boil.Use pot holders to remove the cans from the stove and put them on the newspaper. Hold a leaf by its stem, carefully dip it into the wax, then lay it on waxed paper to harden.
Make a leaf rubbing.